m-AnimalTrap (patent pending)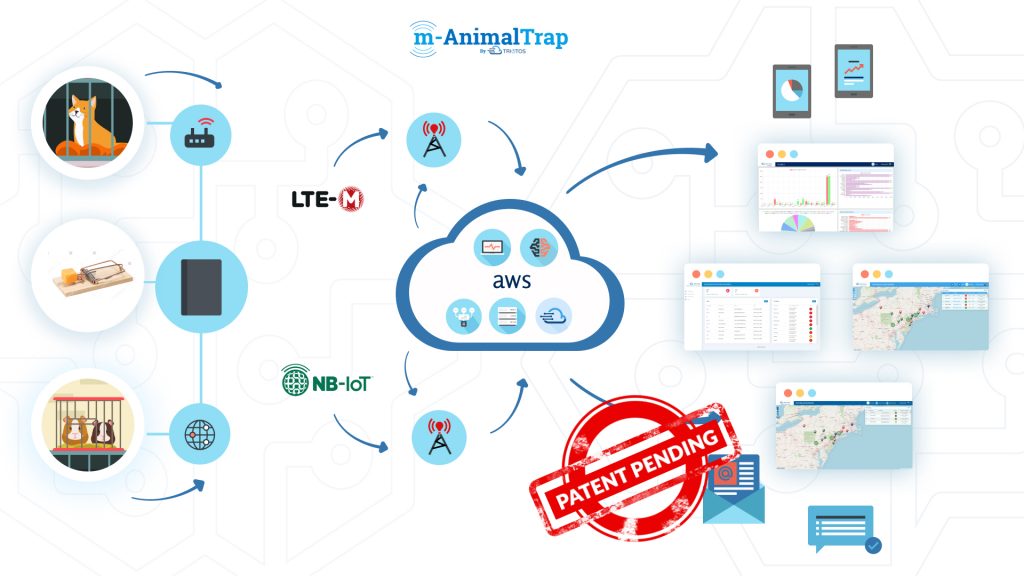 Triotos introduces a 'pre-package' low cost customizable IIoT Animal Trap monitoring solution directly addressing one of the key costs and labor-intensive tasks of any rodent control business, traveling around checking traps on a daily basis.
Get instant notifications when traps have been triggered
Improve efficiency by prioritizing site visits where traps have been tripped
Low cost – <$1 a day – pays for itself by reducing trips only to find an empty trap
Flexible and non permanent design supports a wide variety of Havahart traps.
Battery life of up to 3 or even 10 years
Can be easily transferred to new traps – installs in minutes
Our industrial grade cloud-based solution is built on the AWS IoTcore platform, utilizes low cost cellular IIoT connectivity from AT&T (using the same 4G/LTE network your phone uses) and hardened IP-65 approved battery powered Open/Close IIoT monitoring devices mounted on various types of animal traps.
The Triotos solution comes complete with web-based applications for monitoring trap closings including location of events as well as customizable analytics of when animals enter traps including and ability to message specific personnel and managers when open/close events or area thresholds happen though email or SMS. It also has applications for monitoring the ongoing operational status for thousands of traps as well as a flexible administration application for user administration and trap provisioning.
Pre-package low cost customizable IIoT Animal Trap monitoring solution

Out of the Box
Highly customizable to integrate with specific customer needs

Reporting
Alarms
Integration with Customer Systems

Highly Scalable cloud based architecture – from 10s to thousands of traps monitors

AWS IoTcore & and AWS based cloud applications including SNS messaging
Secure cellular connectivity using AT&T nationwide network & secure APN

Battery powered device with long life (3-10 years with one report/day)
Customizable applications for trap monitoring, managing and data presentation including analytics.
Triotos is bringing a new approach to this market by providing a robust and highly scalable platform ready to be deployed as is or customized to your exact needs at a cost you can afford.
Contact us now to get a demo of the product