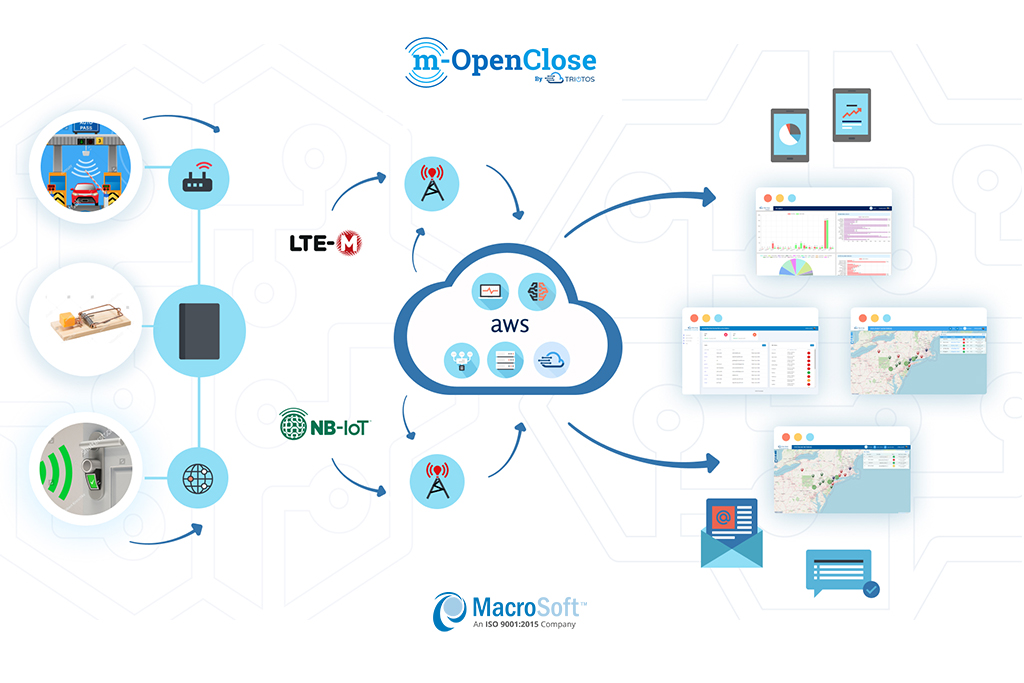 Triotos introduces a 'pre-package' low cost customizable IIoT Open/Close monitoring solution built on the AWS IoTcore platform and utilizing low cost cellular IIoT connectivity from AT&T and hardened IP-65 approved battery powered Open/Close IIoT monitoring devices. Intended for non-powered remote or unwired sites where open/closed status of doors, gates or sites are critical, this solution is designed using battery powered trackers that can report up to 1000 or 3000 open/closed activities on one battery charge for battery life of 3-10 years if reporting on average once every 24 hours.
Intended for critical Open/Close monitoring solutions like security, perimeter defense, rodent traps or applications where knowing open/close status of a physical asset is critical, this general purpose solution can be deployed anywhere as it connects through AT&Ts regular cell phone network.
The Triotos solution comes complete with web-based applications for monitoring open/close events including location of events as well as customizable analytics of when open/close events occur including ability to message personnel when open/close events or thresholds happen though email or SMS. It also has applications for monitoring the ongoing operational status for thousands of open/close monitors as well as a flexible administration application for user administration and device provisioning.
Pre-package low cost customizable IIoT based open/close solution

Highly customizable to integrate with customer needs

Reporting
Alarms
Integration with Customer Systems

Highly Scalable cloud based architecture – from 10s to thousands of open/close monitors

AWS IoTcore & and AWS based cloud applications including SNS

Secure cellular connectivity using AT&T nationwide network & secure APN

Battery powered device with long life (3-10 years with one report/day)
Customizable applications for open/close monitoring, managing and data presentation including analytics.
Triotos is bringing a new approach to this market by providing a robust and highly scalable platform ready to be deployed as is or customized to your exact needs at a cost you can afford.
Contact us now to get a demo of the product