Today IoT has become critical for many businesses that want to flourish and grow in the 2020s. We are moving to an era where any product can be connected and any service monitored in order to provide better user experiences, business and operational improvements.
As costs for every part of the IoT ecosystem continue to fall – cloud, IoT devices, communications and mobile technologies – it's more cost effective for physical things to share and collect data with minimal human intervention. In this "always on" world, digital systems can record, monitor, and adjust each interaction between connected things. The physical world meets the digital world.
Triotos was founded to allow small and medium size (but also larger) companies to leverage and use Internet of Things. Rather than spending $Millions and years to implement IoT in your business from scratch, our approach allows you to get started in months and at a fraction of the cost.
Our approach has been to develop a set of complete end-to-end (device to applications) IoT 'reference' solutions that can be easily modified and customized for individual customers to meet their specific needs. We build these on the market leading AWS IoT core cloud computing service and provide them either hosted or handed over to each customer. These solutions come with customizable IoT applications: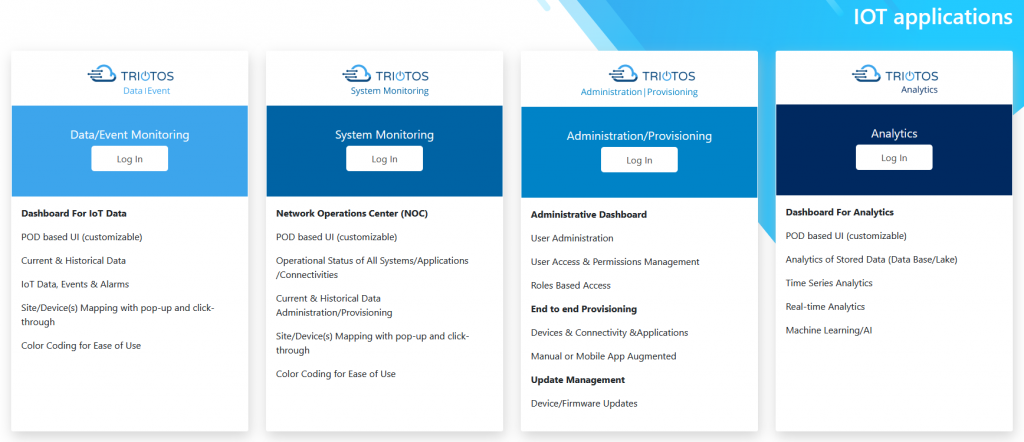 We invite you to spend some time with us and learn more about how we can help you implement IoT and associate business advantages in your business – at a fraction of the time and cost!