A key implementation of Industrial IoT is to design products and systems with IoT capabilities already 'built' in. This can be new designs or upgrades to existing designs. 'Integrated' IIoT means incorporating software and hardware capabilities that support IIoT data models and processing as well as connectivity to the Internet. The challenge is not necessarily how to do this but the best way to do it and do it right? There are literally hundreds of IIoT chip set and module alternatives on the market, many marketed through partner programs with IIoT solutions and platform. Based on the best available offerings, Triotos 'Integrated' Connected Product Monitoring delivers a solution that is easy to incorporate as you design your IIoT products and systems.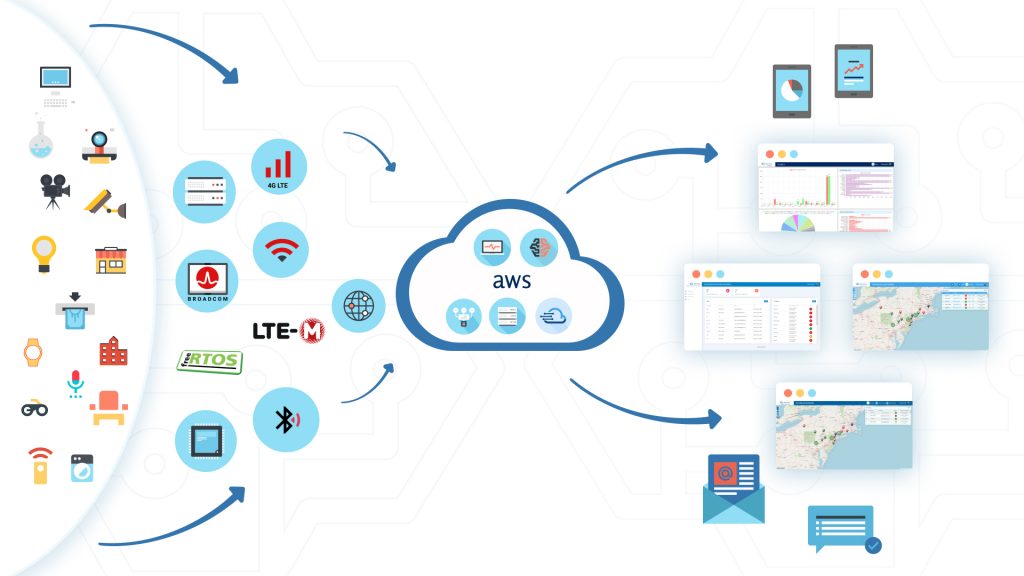 Understanding the Challenge
Microcontrollers performs core control, monitoring, and data processing in millions of industrial products and systems. These are supported by an industry of hardware and software suppliers providing anything from chip sets to modules and sub-systems and real time operating systems, device drivers, and software components. The same is true with connectivity and communication SOCs (System on a Chip) and modules. Creating the right IoT design for your product can be a challenge, especially if they are to be a part of a complete end-to-end, cloud based Industrial IoT solution.
'Integrated' Connected Product Monitoring – an Evolved Answer
What if there were a better way? Triotos has examined this challenge and developed an answer, the 'Integrated' Connected Product Monitoring Reference Architecture that can be used as you design your product and integrate it with a complete IoT solution, without massive investment and integration costs.
A well-defined reference solution addresses some of the most difficult challenges in delivering the most critical functions required for a successful IoT implementation.
First and foremost, it helps ensure delivery of IoT applications that actually meets the needs of users, whether product/system users, operational managers, technical support, business analysts, administrators, or executives. In other words, the applications are made available in the right format, on the right device, and with the right timely relevant actionable information that each user wants. In the specific case of converting industrial products and systems, an Integrated Connected Product Monitoring Solution meets the requirement of being easy to integrate allowing you to focus on product development. It is a real solution, using industry standard software and hardware and interfaces.
Additionally, the Industrial IoT Connected Product Monitoring Solution delivers:
An IoT data model and associated data gathering capabilities designed together with each customer and customized for that customer's specific needs.
Recommended hardware, software and development environments that will work with the reference solution supporting wired or wireless connectivity. (WiFi, Bluetooth 5 or LTE, LTE-M or NB-IoT)
An IoT platform that handles all the data gathering, processing, and storage of the IoT data. A processing architecture that then processes and converts raw data to meaningful data, events, alarms, and information that can be used for applications, machine learning and analytics. And, of course, a processing architecture that utilized device processing and edge processing available in IoT gateways to optimize data flows and efficiency.
A secure scalable application that will meet the customer's needs today and for the foreseeable future.
In summary – an existing IoT reference architecture for developing IIoT products/systems that offers compelling advantages in terms of cost, ease of implementation, and reliability.
Triotos Solution – Built on our Reference Architecture
Our Industrial IoT Reference Architecture is built around Amazon's AWS IoT Core platform, edge processing software and associated applications/software for data management, time series storage & analytics, machine learning, and tools for information presentation as well as services for messaging and email. This also includes integration with existing enterprise software and tools where you currently keep track of assets.
On top of this we have created a complete set of applications for data/event monitoring, analytics, administration, and management of the IoT solution as well as user, device, and application provisioning. In addition to the extensive AWS IoT security architecture, we are integrated with AT&T's extensive mobile offering for secure high speed and low speed data connectivity.
By starting with an already existing reference architecture augmented with tools for rapid development and integration we will bring up a complete IoT implementation for you in months instead of the typical year an internal effort would take. Working closely with your product developers and IoT team and using an agile approach we will start delivering your IoT applications, designed for your specific needs, in weeks rather than months. This can be done without having to wait for you to complete your hardware development using simulation tools. As we are already starting with a fully deployed reference architecture, we can do this at a very competitive price point and offer it as a solution owned by you or hosted on our AWS multi-tenant platform.
So, if you need to implement 'Integrated' Connected Product Monitoring Triotos can deliver, bringing you the complete IIoT solution you need for your business and customers.