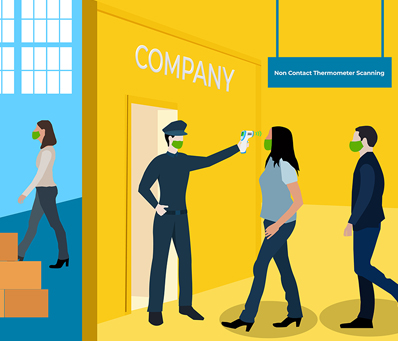 As we begin to prepare for future phases of opening and return to school both public and private organizations are making decisions about monitoring employee's, students, vendors, visitors and educators with temperature monitoring equipment. Using this type of equipment can provide another layer of protection for everyone. However, managing the data that's captured can be tricky.
Where to store the data, how to report on it, how to analyze and how to secure it are all important questions to consider. Is the information HIPAA compliant? At Triotos we have developed an IoT cloud-based platform customizable to your needs. You can monitor the data flow and characteristics as well as analyze your data from a single pane of glass. You can leverage your edge device (Thermal Scanner) with our IoT optimized solution for instant feedback.
Scenario 1. Employees are scanned when they enter the building. Readings are stored for analysis and reporting. From this system you find that Mondays and Thursdays indicate a higher degree of positive scans. With this information you can develop proactive communication plans with your employees.
Your access to information may also inform your decision on what type of scanning equipment to purchase. An opensource platform might lend itself to very robust monitoring while a closed source (proprietary) platform might lock you in to a limited reporting mechanism that might impact your future planning.
Information in a vacuum is like not having information at all. It's better to know before you make substantial capital investments. Measure twice, cut once.