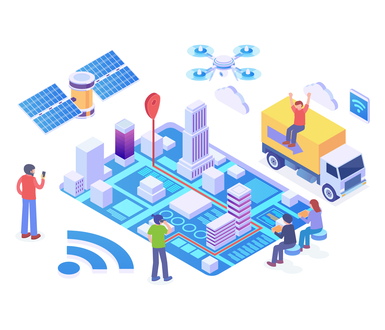 Asset tracking is all about knowing where assets (equipment and vehicles) are located at relevant times or moments of time when they move or experience detectable events. Solutions using IIoT devices connected via cellular networks has been around for 10+ years and are today in daily use in transportation, rental, construction, mining and 100s of companies around the world. Given this current state, is there anything new to tell? The answer is yes – there is plenty? Three things are happening:
Low-Cost Connectivities are becoming widely available – LTEm, NB-IoT for nationwide coverage and Bluetooth 5, LoRaWAN and Zigbee (variants) for local area < 3/4 mile radius use.
Battery Powered Tracker Devices are becoming a reality because of new microcontroller (ARM Cortex based) and connectivity
Scalable Cloud Based IIoT Platforms from leading providers are becoming the implementation of choice leaving many proprietary IoT platform solutions a thing of the past.
Let us take a look at what they are and why they are game changers:
Low-Cost Connectivities
When cellular operators turned on services optimized for low data rates tariffed at $1/month or less, they opened up a new world of low-cost tracking opportunities. LTEm and NB-IoT are both deployed on their 4G networks (meaning same coverage as your phone) with slightly different feature sets trading off speed for building penetration for example. LTEm is better at roaming while NB-IoT was designed with more stationary use cases in mind. Regardless, cellular connectivity for tracking devices just dropped by a factor of 10.
While some local area connectivity technologies have been available for 10+ years, recent release of Bluetooth 5 standard as well as some new proprietary technologies add important connectivity with reach of ¾ miles from a central antenna point. This lends itself to asset tracking within a campus, industrial site, or commercial building.
Battery Powered Tracker Devices
The new low cost connectivities come with a different advantage. They are designed to consume much less power than their older cousins. Paired with new low power microcontroller and using recent battery technology improvements, these new devices have connectivity and power budgets allowing for battery lives of up to 10 years, something unheard of a couple of years ago. OK, power budgets are budgets so a typical example of calculating battery life is connecting to the Internet once every 24 hours. More connectivity reduces battery life for obvious reasons, so power budget is an important design parameter.
Scalable Cloud Based IIoT Platforms
Many existing tracking platforms used proprietary software platforms when they were developed 10+ years ago before the advent of modern web technologies with APIs and integration tools. While they still work, they can be expensive to maintain and upgrade and often require dedicated resources in the IT department. Scalable cloud based dedicated IIoT platforms are available from leading cloud providers like AWS (IoTcore), Microsoft (Azure IoT), IBM (Watson IoT). They are part of a complete cloud computing offering resources for storing data, analytics, machine learning and hosting web and mobile applications. They also offer comprehensive security architectures and can be securely integrated with mobile network and other networks though secure VPN connections.
Combined, these three areas are game changers when it comes to developing, upgrading, deploying and operating competitive and cost effective IIoT based asset tracking solutions allowing for new use cases, cheaper connectivity and better understanding of information gathered.
Using the Triotos reference architecture and associated hardware and software, we can implement or upgrade your Asset Tracking use case and bring up a complete IoT solution for your business in months instead of years and without spending 'big bucks.' It is a perspective that sets us apart from the crowd. We invite you to learn more about the road to IoT and more about us at www.triotos.com